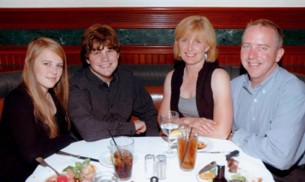 Patrick and Kathy Jones and their children Sara and Connor
I have got e-mail from Kathy Jones a grandchildren to Ruth McGee. They are two sisters Kathy and Phyllis Ellen, daughters of Phillip Lloyd Mc Gee. Read here what Kathy wrote in this e-mail to me (Rolf):
"My father Phillip McGee passed away in Minneapolis, Minnesota on July 9th, 2008 of complications related to what is known here as COPG. Basically he had smoked much of his life and it compromised his lungs. He was a talented person who wrote poetry and music, and loved literature. He worked in security for his profession.
Regarding my grandmother, Ruth Elsie (Anderson) McGee. She married my grandfather Phillip Henry McGee, against his families wishes. The story I always heard was that they met, fell in love and my grandfather, who was Catholic, asked his priest if he could marry my grandmother, the preist said he would go to hell if he did so. My grandfather told me that he moved to Chicago, Illinois for a time, figured he was living in hell anyway and came back and married Ruth. His family disowned and disinherited him after that. The only time I ever met any of his family was at funerals. During their marriage, out of respect for my Grandfather, my grandmother was not active in the church. After his passing, she became very active, teaching, playing piano and visiting older people who could not get out of their apartments. She had a deep faith in Jesus Christ, which greatly influenced me personally. Ruth was not afraid to voice her opinions on religion or politics or social issue of the day. She was one of only a few woman to obtain a bachelors degree from the University of Minnesota. She went on to teach mathmatics.
In 1985 she was diagnosed with kidney cancer, which had spread through out her body. On August 20th, I went to visit her. Suddenly she started looking around the room intently, as if she were watching and listening to something. I asked her what she was doing. She said "There is an angel over there and one over by the door". She listened for another moment and said "Oh, they have come to take me home." I honestly wasn't sure what to think of this at the time. I though perhaps she was on too many drugs. The next day, I returned and she asked to get out of bed and sit. My aunt Phyllis (McGee) Heath was with me. We got her into a chair. I was kneeling in front of her and my aunt was behind her. Suddenly she looked up and I knew she was no longer there. She had left. I guess the angels really did come to get her. It was an awsome experience.
Please let me know if I can provide any other information or stories. I have numerous photos and music and poetry by the family.
Kathy Jones"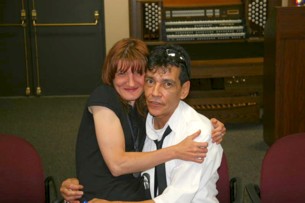 Phyllis Ellen McGee (Hernandez) and her husband Nick